NORTH CANADIAN RED ANGUS
North Canadian Red Angus is a family run ranching operation. Our ranch headquarters is located at 15443 North Karns Road, Geary, Oklahoma. We are primarily Red Angus, but do have some Black Angus cows and purchased Black Angus heifers as a part of our heifer breeding program. We also run some Hereford bulls for cross-breeding purposes.
At North Canadian Red Angus, we strive to achieve excellence in several ways. Our primary mission is raising replacement heifers. We want to raise heifers that will become high quality momma cows that are highly efficient foragers. Our goal is to provide you with cows that work for you instead of you having to work all the time for your cows. In order to accomplish this goal, we have purchased Pharo bulls out of Cheyenne Wells, Colorado. These are some of the most grass efficient bulls on the American continent. Every heifer raised on our operation will be at least 50 percent Pharo genetics. In time, of course, every heifer will be more than 50 percent Pharo. We are working hard to produce the highest quality replacement heifers for our customers.
At North Canadian Red Angus we are committed to a sustainable approach to the ranching life and business. In recent years, we have implemented rotational grazing on every location where this is feasible. In locations where rotational grazing is not feasible, we graze for only six months out of the year. This allows the grass to rest for the other six months.
Because of our grazing program we are able to graze year-round. With forage left in the pasture we are able to catch and retain a lot more moisture than in the past. Few resources are more precious than water, so being able to utilize it more efficiently helps us in many ways, including during periods of draught.
Having grass year-round is also very good for the environment. Some studies suggest that grass is a better carbon sink than forest because of the wildfire risk with trees. At any rate, our grass pastures are carbon sinks. While we raise replacement heifers and beef for consumers, we are also participating in maintaining a healthy planet.
We are extremely proud at North Canadian Red Angus of what we do. It is our most fervent wish that our work would please our Creator and be a blessing to you.
OUR PHILOSOPHY IS TO WORK WITH NATURE
Today at North Canadian Red Angus, we are pressing that thinking much farther as we seek to lower operating cost and create sustainable ecological conditions on all of the land we control. We calve in April when the forage supplies are more likely to meet the nutritional demands of the cows. In 2018, we started a year-round grazing program. We have pastures that are grazed in the summer months and pastures that are grazed during the winter months. Where this is not practical, we have reduced stocking rates. Combined with rotational grazing, our supplemental feed costs have been reduced by over 50 percent.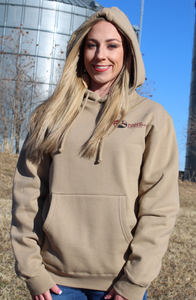 NEW APPAREL HAS ARRIVED
"North Canadian Red Angus - Sustainable Ranching Saving the Planet, One Cow at a Time".
Stop by Moore's Farm Service Center, in Calumet, to purchase one of our new hoodies. And support local.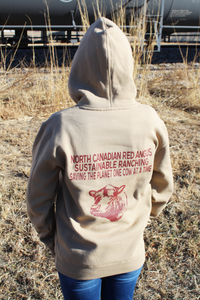 Subscribe to our newsletter
Promotions, new products and sales. Directly to your inbox.