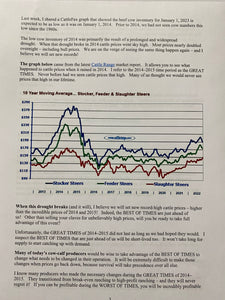 Beef prices set to rocket up, up and away
There has never been a better time to get yourself connected to a local farm to plate agriculture producer. Our country and our world is filled with uncertainties from geopolitical to cultural issues. Adding to all of this uncertainty is a very serious drought that is impacting agriculture around the world. 


The pic is from Cattle Range market report and shows beef cattle prices during the last serious drought. Many people believe we will set price records this time around. Our cow numbers are at least as low as they were back in 14-15 and we have many supply chain issues plus serious inflation problems. 


Here at North Canadian Red Angus we are attempting to bring the healthiest of beef products to you at a fair price. It is a challenge in the environment we are operating in. Check out our web site at northcanadianredangus. Com., see us on the North Canadian Red Angus business suite and on Shopify as well. 


Farm to table is the way to provide healthful locally produced Ag products for your family. Contact us at mfsc@pldi.net or talk to Yvonda at 405-308-1833. 


God bless. 
---